Archive for the 'Glancer Project' Category
I wrote about identifying music and faces earlier. Glancer is a sort of people discovery engine, so here's one more related application.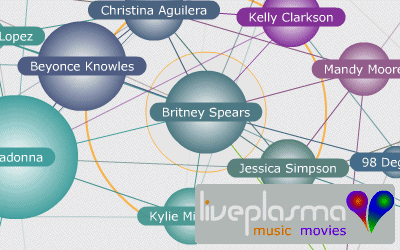 LivePlasma is a Rich Internet Application that helps you discover music and movies. You can search via a keyword and review the results. The results are linked to other relevant results. So you can navigate between similar results easily.
It's quite similar to how we plot people in Glancer, they have nice animations! I got a little bored after exploring it for a while because there was nothing further that I could do. Actually there are a lot of options tucked away in the left panel. But I think some more options on the result item itself, would have been great.
It's a nice implementation though!
What's nicer, is how CNet integrated this technology in News.com. With each news story, you get a LivePlasma applet on the right that shows you articles related to this one. You can then dig deeper into the story. This is very intuitive and more enjoyable than searching for links in the article itself. They call it the Big Story and I recommend you pay a visit to news.com to find out how it works!
I have collected Glancer files and put them up for download. You can get the full source code from Glancer.net. Note that this is still beta, no documentation is available and no guranttees are given
For all the delegates of Foss.In who had trouble accessing Glancer on Foss.In, you should be able to access it now. We have sync'd the latest delegate data.
Just finished a BoF on Glancer. It was pretty good actually. About 5 people who are actually interested in contributing to Glancer right away – Vivek and Jatin from Hubli, Pradeepto and Karthick from Bangalore and of course; Tarique Sani.
We discussed and here's the todo:
Put the code on SF – I am doing this next week
Messaging Module
Conference guide printing options – short, detailed etc
More jazz to the UI
Optimization – loading and using
Compatibility issues
RSS Integration
Result paging so that we fetch only as many records as this screen can display
Calendar view for Scheduling
Bug with 0 score (does not show up people on the screen if score is 0)
How to integrate Glancer with other conferences
Contact other conferences and see if they are interested in Glancer
Admin interface?
Bridge type webservices for integration with other conferences and sync'ing?
System Admin / Hacker guide on installation and usage
Wiki for documentation
SourceForge Forum
Mobile version
Desktop version
Photo upload feature
Port the backend to other technologies – Java / .Net etc
Port the frontend to AJAX
We actually also hacked up the code a bit to auto match people when you click on the "Friend Finder" button. Earlier it showed a blank map, now it would show the people who match you by default.
I am excited!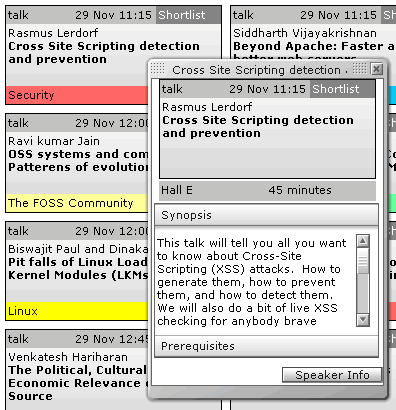 The new and improved Glancer beta is available.
The beta version has the following additional features:
Integration with Foss.In – registered delegates are already imported!
Talk Schedules available
Search and shortlist sessions you want to attend
Print customized conference guide – with information on sessions you
are attending
Enhancements to People Finder
Preferences – fine tune the search results by managing weightage
Bug Fixes
Head on: http://glancer.foss.in/
Umm, glancer.foss.in?? And not glancer.net?? Yes, Glancer is now integrated with the foss.in systems. All delegates are automatically sync'd with Glancer. So you can login with the same delegate code that you got from foss.in.
We also have all the talks in there. You can read the feature list and start using it!
Notes:
1. This means, speakers will have to register as delegate and get themselves a code to use Glancer.
2. It takes a few minutes to get your delegate info on Glancer after registration.
3. We don't have any contact information on Glancer now. Your privacy is intact.
Thanks.
I was importing the Foss.In speakers and talks data into Glancer, and it started giving me some strange errors. This is what I got in OpenLaszlo:
error: java.io.UTFDataFormatException: Invalid byte 1 of 1-byte UTF-8 sequence.
And when I tried using PHP, this was the string:
SOAP-ENV:Server SOAP-ERROR: Encoding: string 'some string here' is not a valid utf-8 string
So I looked up what's causing this. First I thought it would be MySQL. I had mixed up collation order on different tables. Some were the default latin_swedish_ci, some were utf8_general_ci and some were utf8_unicode_ci. I changed all the tables and fields to utf8_unicode_ci first. But that did not solve the problem!
This is the time when I switched to PHP to test. And found that the problem was because the string in the data was not a proper Unicode / UTF8 string. I checked up if this is due to the size of the string – I had text data types. But well, that wasn't the problem. Then I discovered the problem was coming up because of some funny characters in the text.
Primarily, the "auto convert" characters that Word typically adds up. E.g. the double quotes getting converted to inverted double quotes, three dots to an ellipsis, the TradeMark, so and so forth. This was not acceptable to the webservice!
This was strange to me, as Unicode should support any character in the world, but I just went ahead and removed all such characters and things started working!
FYI, here are the characters that I replaced:
"
"
'
™
…
•
'
—
–