Entrepreneurship is filled with challenges. And I've had a large share of challenges over last 17 years of building tech businesses.
I was discussing my talk at Unpluggd with Ashish Sinha (of NextBigWhat, Unpluggd), he said that's "EntrepreneurShit"!
Surviving EntrepreneurShit
What 17 years of EntrepreneurShit survival episodes taught me about business and life in general is what I shared with Unpluggd attendees last Saturday. If you are building a business, you may find solace here!
Here's the end-slide listing my lessons.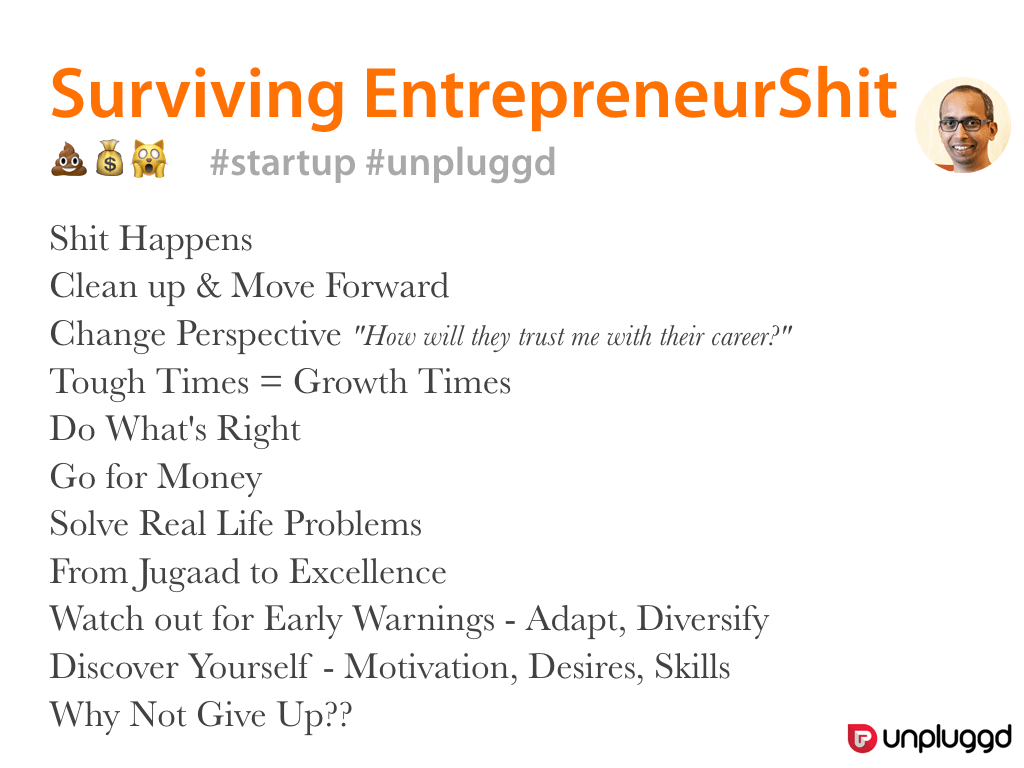 I'm not putting up the entire slide deck, because the rest was all stories! You have to be there to get them! No slides can capture those failure stories!
I'll leave you with a couple of quotes from my talk to get you thinking:
---
There is always a pot at the end of your entrepreneurship rainbow. You just don't know what's inside the pot. Don't just expect gold coins. Your pot may be filled with a lot of smiles, a big heart, lot of lessons and bliss. But there will be a pot!
---
When to give up?

Do you love what you're doing? Is there big business potential in it?

If yes, do not give up.
---
My reactions to Unpluggd 2016 speaker sessions
My Unpluggd experience was a success! The conference session content was good, the organizing team is obviously super passionate, and the attendees were serious about building and growing awesome businesses.
Here are my takeaways / reactions to the speaker sessions.
Some food for thought, uhh?