Men, make sure to lift the toilet seat before urinating; if you are concerned about the sanitary conditions, you can use your foot to gently lift the side of the toilet seat up or down.
If you think that's funny, think again! That's one of the bathroom etiquettes you should follow. Adam Lowe runs a podcast – Modern Manners Guy on Quick And Dirty Tips. He has covered bathroom manners in good length in one of the podcasts. It's definitely worth a listen / read. I not only learned some, but also had a good time reading them! I have now subscribed to the transcripts as RSS!
And while we are on the topic, a couple of images on the topic!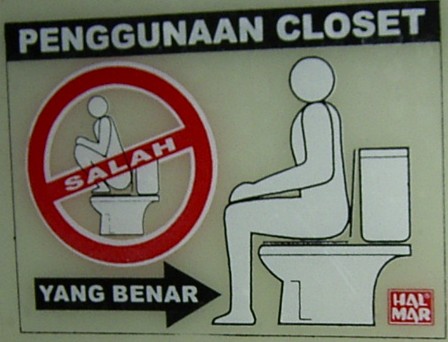 Don't Squat On The Toilet Seat, a poster in Bali (From:
Travelogue Bali 2003
)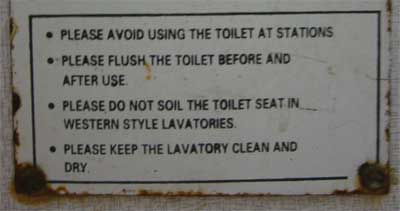 A notice about Toilet Manners in trains of Indian Railway (From:
Numbered Accounts
)