We shifted servers a few days back, but we seem to have some interesting problems. Right now, I see a two different versions of this blog in Firefox and Safari. Both point to same IP. Safari shows old version, Firefox shows new version.
Puzzled!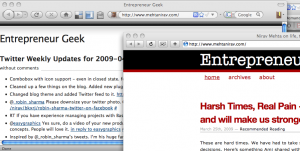 Solved it!
This took much longer to figure out, but it was a very interesting catch! Here are some notes.
We were checking the site from same network, same internet connection, same DNS servers. Firefox and Safari on my machine showed different versions of the blog.
Cleared browser cache – did not work.
Checked DNS – no problem. Everything was pointing to the new server correctly. This ruled out the possibility of DNS cache causing the problem.
Removed all site content from the old server and put up a blank index page. Interestingly, that did not show up. We continued to see the site. This confirmed that it is not really a DNS cache problem.
Checked Apache access logs – all requests were going through the new server. But still showing different designs.
We started thinking where else could the cache be? Now that the problem is on the server.
And Eureka! WordPress Super Cache was the culprit. I did clear the cache after setting up new design – as I suspected it first – but somehow the cache was not cleared. I should have manually deleted all cache files, rather than relying on the plugin to do it.
Deleted all WP Super Cache files and folders and everything started working!
Thanks to everyone who helped. Sujeet reported the problem first, Akshay suggested a solution, Aamod commented on the design, Kunal reported a problem with comment posting and Alan from my systems team found the real cause. I am touched by your support.
And what more? R. Bhavesh even offered to redesign the template! Thank you!